Concept
The zine is set to a
storybook/fairytale theme. From
retellings and reimaging's
of classic fairytales (Evelynn as
Sleeping Beauty, Kai'sa as Red
Riding Hood) to crafting
thematic stories unique
to the girl's backgrounds,
our book is sure to lead you
on a journey from start to finish.
Historical Timeline
The historical era should reflect a European, Japanese, and Korean medieval / renaissance time, which spans from the 5th to 16th eras in European history as well as the Joseon dynasty which was reigning from 13th century well beyond the 16th. In Japan, this begins at the Asuka era and the last era included is the Edo period .However, we want to end at the 16th century at the latest, as the industrial movements slowly began to popularize as early as the 18th century. Please do not hesitate to ask about specifics!
| Date | Event |
| --- | --- |
| June 22nd | Contributor Acceptance |
| July 6th | Preliminary Check-In |
| August 3rd | 1st Check-In |
| September 7th | 2nd Check-In |
| October 12th | 3rd Check-In |
| November 9th | Final Submission |
| December 19th | Preorders Open |
| January 31st, 2023 | Preorders Close |
| March 11th, 2023 | Zine Release |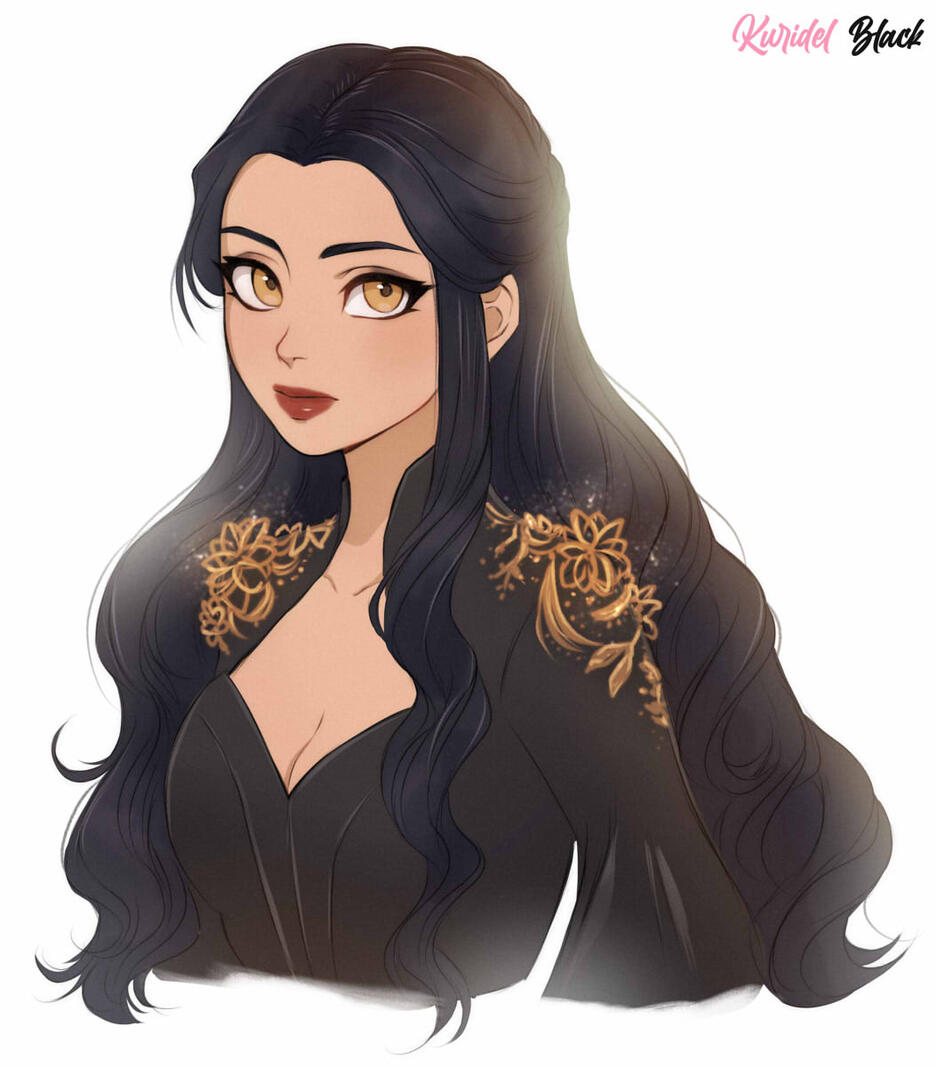 Art by @KuridelBlack (Twitter)
Corialle (She/Her)- Lead Mod
Contributing as: WriterHello everyone! I'm Corialle and I am so excited to bring this project to life! . K/DA has been on my daily playlist since POP/STARS released and their music, style, and the girls in general more often than not get me through the day. Nice to meet you!
Peachie (She/Her)- Co-Lead Mod
Contributing as: Page ArtistHello, my name is Peachie! I am a full time game art and illustration student in Texas and a part time Eldritch horror. I have contributed to the 2021 Akalynn Zine as well as organized and assisted as the art mod for The Tale of Two Cities Arcane Zine of 2021-2022. I'm currently participating in the League of Kittens Zine as well! I am so excited to see all of your fantastic work!
Ivy (She/Her) - Graphics Mod
Contributing as: Merch ArtistHello hello! Ivy here. I've been jamming to K/DA's songs since Pop Stars' MV released. I may not be a League player, but I hope the (unhealthy) amount of times I've watched their MVs will help me in making the graphics for this zine.
Mars (She/Her) - Cosplay Mod
Contributing As: CosplayerHiya, I'm Mars (aka Kasei Cosplay)! Cosplay photographer, mega weeb, and cosplayer of over 15 years. In my free time I'm usually either sewing or reading manga. This will be my 12th zine and 2nd time as a moderator, and I really look forward to seeing everyone's hard work come to life!
FAQ
What is the theme/focus of the zine?
The girls of K/DA: Evelynn, Kai'sa, Ahri, and Akali, in various medieval settings and/or as notable medieval characters. (Read [Concept] for more information!)Besides K/DA, who is allowed to be featured in the zine?
Seraphine as well as True Damage are allowed to be featured in the zine as side characters only due to existing in the same universe. Seraphine will not have any solo pieces.
What are the specs of the zine?
The zine is SFW. for-charity, and digital w/ digital merch.How many contributors in the zine?
The zine has 6 guests. (2 writers, 2 page artists, and 2 cosplayers.)The zine will consist of 19 Page Artists, 5 Writers, 5 Merch Artists, and 1 additional Cosplayer.How will contributors be compensated?
All contributors will receive a digital pdf of the zine and all digital merch.